Identifying the early warning signs of Alzheimer's is crucial toward taking the appropriate steps to find treatment for the individual afflicted, and to keep them safe. That's because early diagnosis is necessary for effective treatment to slow the disease, and it also gives family members a chance to plan for the future.
SKIP TO EARLY SIGNS INFOGRAPHIC
Memory Care Therapy & Drug Treatment Slow Progression
While there is currently no cure for the disease, Alzheimer's treatment and memory care have been shown to greatly improve the quality of life for those suffering from the disease.
At Valiente Senior Living, we specialize in memory care and dementia treatment. The infographic below could help determine if you or your loved one is displaying early signs of Alzheimer's. For more information on our memory care facilities in Cuero and Magnolia, contact us today.
Analyzing Behavioral Changes
Although analyzing a change in behavior may be difficult, it is important to identify any sudden behavioral changes that match early signs of Alzheimer's. The behavioral changes that may indicate the warning signs of Alzheimer's include: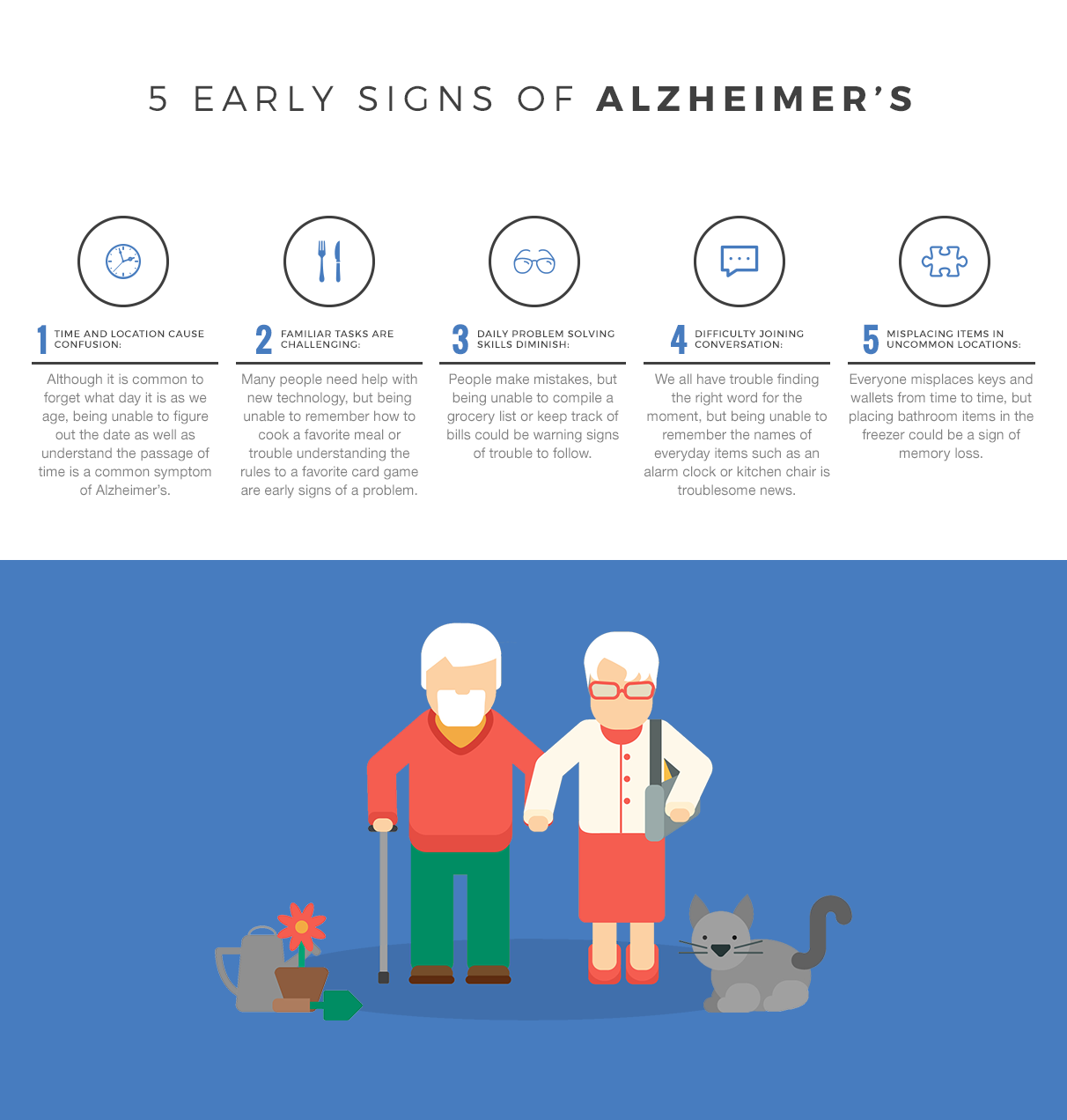 Alzheimer's is a difficult and complex disease affecting the memory. As the most common condition characterized by progressive memory loss, Alzheimer's disease accounts for approximately 60% of memory care patients in the United States. Although memory problems naturally occur with aging, the type of memory function changes occurring with the disease is anything but normal. Alzheimer's is a progressive disease that worsens over time, so early detection and treatment to prolong memory function is crucial to maintaining an acceptable quality of life and independence.
The Next Steps
It is important to remember that you are not alone in this process. Families often fall into despair when an Alzheimer's diagnosis is confirmed, but it is important to remember that there are specialists available for ongoing treatment. We understand that there is no easy way to battle dementia, and have dedicated our service toward helping struggling families. Our local Memory Care Facility" can help to keep your loved with safe, effective treatment in a caring environment. We are always available to answer any questions you and your loved ones may have, contact us today for help in this fight.